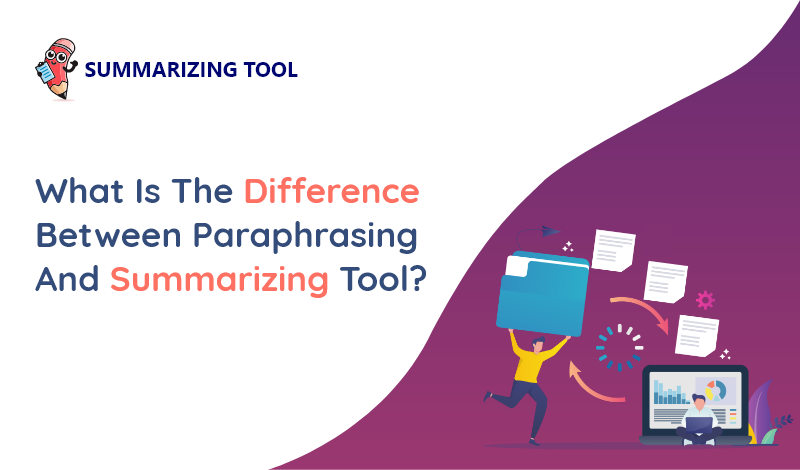 What is the difference between paraphrasing and summarizing tool?
Summarizing and paraphrasing tools are very essential for you especially if you are a writer. Both of these tools reduce a lot of your hard work and saves your precious time. If you want to make your writings more accurate and reliable then you need to mention other people's work. It will not only enhance the credibility of your work but also be a way to prove your claims.
Moreover, you can mention the work of other writers in various ways without plagiarism. These ways either include paraphrasing or summarizing other people's writing. Both of these ways have their own merits and demerits. However, a professional writer knows when to phrase and summarize to improve the quality of your work.
Usually, writers use paraphrasing and summarizing tools to prevent plagiarism in their work. But many people are confused between these two tools. So, let's dig into these tools first.
What is a paraphrasing tool?
As mentioned above, referencing the work of other people improves the integrity of your work. But you need to be very careful because it can also result in plagiarism. However, when you are using a paraphrasing tool, you do not need to worry about these factors. As this tool will help incorporate the work of different authors by using different words. In simpler words, this tool will assist you in conveying the original idea by using a different approach.
No doubt, this tool will change the words but it will not alter the main concept of the content. It is just like restating the idea of the source by changing the sentence structure, sentence order or using synonyms of the words.
What is a summarizing tool?
The summarizing tool will give you the condensed version of the original content. It will recognize the important and main ideas of the original content and then presents the precise form in the output box. This tool will abstract the significant points of the source material that a reader can easily digest. However, plagiarism is not accepted while summarizing the actual content. That's why this tool will provide you concise content without any plagiarism in it.
Difference between paraphrasing and summarizing tool
There are the following differences between these tools.
The paraphrasing tool will provide you alternating forms of content by replacing the original words with their synonyms. This tool is very helpful when you are supporting your content with facts so it may include additional information such as examples or quotes from previous people.
On the other hand, summarizing tool will write an overline of the original content. It detects the significant points and represents them by using different words. However, it does not incorporate any additional information other than the source material.
Specification of information
There is no restriction of including only specific and certain information during paraphrasing. So, this tool will not make a smooth transition from general to specific information. In fact, it will include information to make source material more comprehensible.
Whereas, summarizing tools will help you to get general to specific information. It will eliminate unnecessary information and facts while writing the overview. Because this tool emphasis the condensation of the source material.
The paraphrasing tool has not any limitations regarding the length of the content. The paraphrased material can either be short or long from the source material.
While summarizing tool will provide you summary, which is shorter than the original content. Hence, this tool has a restriction on the length of summarized content. As it enables the reader to focus only on the critical points.
Paraphrasing tool will be used in the following situations
It will be utilized when you want to incorporate the work of different authors.
You can make use of this tool to quote the famous saying of the people.
This tool will be used when the ideas have more resemblance as compared to the writing style.
You can employ this tool to simplify the work of different authors.
The summarizing tool will be put to use in certain conditions.
When you want to recognize the important idea of the source material.
You can utilize this tool when writing the outline of the existing content.
You can get an advantage from this tool when you are presenting the significant highlights of the work.
As most readers love to read concise and simple content so you can use this tool to get simpler content.
Benefits of using these tools
There are the following benefits of using these tools
No doubt, professional writers produce great website content but they do not like to write similar content again and again. This will not only disturb the quality of content but affects the productivity of the writer. Therefore, in turn, it has an effect on the website ranking. So, you can use paraphrasing and summarizing tools to produce authentic and reliable website content.
Do you have a website? However, you are short on your budget to hire a professional writer. Throw away all your worries because you can utilize these tools to create outstanding website content. Hence, these tools will not only help you in yielding good content but also save you money.
Brainstorm your vocabulary
Paraphrasing and summarizing tools are very productive in the brainstorming of your vocabulary. In these tools, when you copy-paste your content into the input box then you will get a list of synonyms. So that you can select the best one according to your taste. The given suggestions will help you to improve your vocabulary.
Google admires unique content
If you want high rankings on the google search engine then you need to follow the instructions provided by the search engine. These search engines regularly upgrade their algorithms and are very difficult to get high google rankings. These engines require the websites to use engaging and unique SEO content with no plagiarism. Then, Google will give you a reward by increasing your website's ranking and access to a large audience. Thus, you can use paraphrasing and summarizing tools to yield high-quality content.
Lastly, paraphrasing or summarizing is not everyone's cup of tea. As this process consumes a lot of your time, mental energy, and struggle to create reliable and accurate material. However, summarizing and paraphrasing tools will assist you in writing authentic content without any plagiarism. So, what are you waiting for? Get these tools to make your life easy.